Why Quantitative Easing is a Worry for Retirees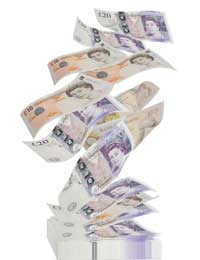 With the economic situation in the UK getting worse, the Bank of England made the unusual announcement of its intention to begin 'quantitative easing', which will add a further £75bn into the system in an attempt to improve market liquidity.
In previous times such a measure would simply have been known as printing more money. Of course now a similar effect can be created electronically. But what exactly is quantitative easing, and why should pensioners be concerned about its long-term effects?
Why Start with Quantitative Easing?
When an economy is struggling, central banks (in the UK's case, the Bank of England) are able to lower interest rates. By doing this they are able to help stimulate the economy by encouraging more people to borrow money – because it is cheaper to pay it back.
This is a policy designed to get people to spend money rather than save it and in doing so to help keep the economy afloat.
However, this trick has been tried and tried again several times over the last few months, with relatively little success. In fact, interest rates in the UK have fallen rapidly, down from 5.0% in September 2008 to just 0.5% today.
So, with interest rates close to zero, the Bank of England needs to find another way to give the economy a boost. And quantitative easing is the next step.
How Will Quantitative Easing Work?
The Bank of England has created £75bn of 'extra money', which they will be using to purchase assets on the open market, such as government and corporate bonds.
The idea is that those financial institutions that have found themselves in a difficult situation will be able to sell their assets to the Bank at a profit, in doing so improving the status of their balance sheet and, hopefully, boost the levels of liquidity in the market.
Improved liquidity should also help encourage banks to begin lending to clients and to each other again and this should in turn help to rid us of the credit crunch that has dominated the headlines since 2007.
What are the Risks Associated with Quantitative Easing?
Printing money to pay your way out of a crisis is never a good strategy for a government, and needs to be managed carefully. For example, if you put too much new money into your economy your currency will be devalued (making it literally worth-less) and inflation, even hyper-inflation, could result.
Zimbabwe is the most recent example of this. Last year inflation in Zimbabwe was calculated at 26,470%, compared to 3.5% in the UK.
In April 2008, the Bank of Zimbabwe issued a 50 million ZWD note that was worth the equivalent of just one American dollar, and is only enough to buy a loaf of bread. The same thing couldn't happen here, could it?
Why Should Retirees Be Concerned?
While the quantitative easing measures might be considered absolutely necessary in the short-term, the fear is that pension savers will be hit hardest by the long-term implications.
If the Bank of England is spending money to buy back government bonds, them this will affect their value. In the short space of time since the Bank announced their quantitative easing measure, the yields available on government bonds have tumbled, which means that pension fund deficits are worsening.
Government bond prices are used to determine annuity rates and the lower that yields are, the lower the annuity rates available to pensioners.
This means that those people approaching retirement in the next couple of years will be worst hit. It is expected that this year almost half a million people will need to purchase an annuity that will provide them an income for the rest of their retirement.
A Bitter Pill for Pensioners
Whether the Bank of England's quantitative easing measures provide the kick-start that the economy needs remains to be seen. But those savers and pensioners who are getting close to retirement will be hopeful that a recovery happens sooner rather than later, and that the worst effects of inflation are quickly erased, otherwise they might end up being unfairly penalised for the mistakes of others.
You might also like...