Choosing a Credit Card When Retired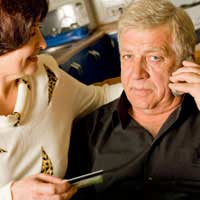 Choosing a credit card when retired may not be a simple task, even if the applicant has a good credit score. This may simply be down to the fact that the retired person's income may now be of a lower rate than when they were in full time retirement. However there are a few credit card options open to retired people that can be considered.
Reduced Credit Limits for the Retired
It is well known that the banks and credit lenders have recently been taking a stricter approach with their lending procedures. Full time workers have found their credit limits slashed for no reason even if they are reliable customers with good repayment records. This does not seem like good news for retired people who may be on a much reduced income when they leave full time employment.
Credit Problems Faced by the Retired
One major credit problem for retired people could be that when they reach retirement their income becomes significantly reduced but they still need to make the same rate of payment on credit cards. Some people plan their retirement meticulously and make sure that appreciating debts such as credit cards are paid by the time they hit retirement. For others on a tighter budget and lower income this is not always an option and credit cards are necessary to make ends meet.
With the credit crackdown by banks and lenders, many retired people have found their credit limits lowered. This really depends on the customer's own bank or lender and the drop in income on retirement. Choosing a credit card when retired may take some thorough research to find the best deal.
Low Interest Rate Credit Cards
If you are retired then research and much shopping around will be needed to find the low rate interest credit cards that are popular but are unlikely to be offered to those on a low income. However, the UK agency Help the Aged do offer a credit card. Rates are very competitive, and it may be worth checking out the terms and conditions of this credit card.
Bank Credit Cards
If you have been a customer with a bank for a number of years and have a good credit record then it may be worth your while applying for a credit card at your own branch. Banks usually look more favourably on existing customers with good repayment records. In most cases the amount of income and the age of the applicant will determine the credit limit offered.
Prepaid Credit cards
Prepaid credit cards are becoming increasingly popular with people who are finding it hard to find credit cards due to low income or bad credit records. These cards are used in the same manner as credit cards except the customer needs to load money into the card before they can use them. The benefits are that there is no interest on the cards, you can keep an eye on how much you are spending and you cannot go over your limit.
Some prepaid credit card companies do charge a fee to set them up but if you shop around there are cards that have absolutely no fees. The cards can be found in a number of venues such as the Post Offices and online prepaid credit card sites. Once the cards have been loaded with however much money you wish they can then be used in exactly the same manner as normal credit cards.
Applying for Credit Cards
It is important to remember never to apply for a credit card until you have found the right one for you. Always ask for a quote when researching your choice of credit card. Every time you apply for a credit card a footprint will be left on your credit file even if you are refused the credit. Lenders will view this file when you apply to them, and too many footprints will look like you have either been applying for credit many times or that you are over committing yourself financially.
Choosing a credit card when retired may mean your options are limited due to a decreased income but that should not mean taking the first credit card offered. There are always plenty of lenders willing to charge exorbitant interest rates and they will take advantage of people who need but are finding it hard to receive credit. Always read the terms and conditions of any agreement before signing and always shop around for the best deal before signing any agreement.
You might also like...
Consider the Which organisation as they offer good advice on goods and services. Research everything and question articles you read and remember the old saying "He who pays the piper calls the tune" (relevant when dealing with organisations etc. This was relevant when I was involved in a serious car crash around the same time our Royals lost their mother and were traumatised years later. A hospital specialist who was involved with my injuries, but working for the other drivers insurance company AXA, informed me that I was malingering. He contradicted the report that his staff had prepared and dismissed everthing despite constant physio and prescriptions for tramadol a narcotic pain killer.
My comment is shop around for credit and retailer offers. I recieved excellent service from AOL but dismayed by Co-op who cancelled my card after recovering from blood poison and severe wound infection. No rewards given for shopping with Coop involving large amounts of money. One involved an item purchased involving a life assurance deal type of agreement. Told that my deal on my purchase had timed out. Please think carefully when picking energy companies, insurance and anything where money is being spent. If you are retired consider contacting Age UK. They are an excellent organisation and offer good advice and guidence for the older generation. Lastly do not be afraid to complain about a service or goods you have had problems with, be firm, assertive and polite.