Where to Get a Good Financial Advisor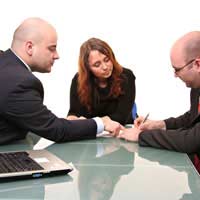 With something as important as your finances it is vital that you receive the best advice you can. Recommendations on where to get a good financial advisor can come from a number of different sources, but once you have made your choice you need to remember that ultimately, your money is your responsibility.
Finding a Good Financial Advisor
Recommendations from trusted friends may be one of the best ways when trying to find where to get a good financial advisor. As with any recommendations regarding using a service that you are required to pay for, it is always better to have a reference from someone who has used the service before.
If you have friends who run a business then they will no doubt have taken professional financial advice and their recommendations will be useful. Finding a financial advisor on your own is easy; phone books and the internet are full of people who call themselves financial advisors, but finding one that you can trust and who will have your best interests at heart will take research. Recommendations from friends and family should be taken seriously, especially if they have used the same advisor for years, without problems.
The Best Type of Financial Advice
Financial advisors should have your financial goals as their number one priority where you are concerned. They should not be interested in selling you packages designed to make them the most commission, which is what a lot of advisors will do. A bad financial advisor will look at two products that achieve the same outcome, if they are being offered a bigger percentage from one than the other, even if the one with smaller commission is more suitable to your needs, they will recommend the one with the larger commission.
A good financial advisor will also be a business person looking to make money for their business, but they should put your needs before theirs. They will recommend the best products and give the correct information, and this is why you pay them fees. Financial advisors give advice on property, business, savings and investments, and will recommend the best financial products tailored to your budget.
Types of Financial Advisor
There are basically two types of financial advisor; an independent financial advisor (IFA) and a tieded advisor. IFAs work independently and should give information on the best products to suit your needs. Tied advisors usually work for a company, such as a bank, and will recommend products that their company sells, and their fees are usually paid by commission.
Questions to Ask a Financial Advisor
Even if you have been recommended a financial advisor through a trusted source there are still questions you should ask when you meet. These questions should include:
Can the advisor supply references?
How impartial is the advice they give?
What are the advisors qualifications or credentials?
Details and information on the company they work for.
How are the advisors fees paid?
Do they give breakdowns, costs and reasons for the products being offered?
How do they come about the information they will give you and how is the research conducted.
The Safety Check Question
If you want to accurately check how good an independent financial advisor is then ask a question that can be researched by yourself before you meet. Ask the financial advisor to recommend a high interest savings account that does or doesn't need withdrawal notice of around 90 days. You can research this information before you meet and see if the recommendations the advisor gives are one of the ones you have come up with when researching.
If the recommendations that the advisor gives have lower rates than the ones you have found, then it is down to your own judgement whether or not to hire them. You may feel that this is a trick question and rather unfair, but you are putting your trust in this person with decisions regarding your money; it is far better to be safe than sorry.
Financial Advisor Qualifications
Make sure the financial advisor you visit has a recognised qualification. They should either be registered with the Financial Services Authority (FSA) or the Personal Investment Authority (PIA). Either of these qualification should be the mark of someone who at least has the necessary training and qualifications. Remember it is illegal for a financial advisor to sell you any sort of financial product with being a member of these bodies.
A good relationship with financial advisor can last a lifetime and is should be a relationship where both parties profit. Research where to get a good financial advisor by looking in the finance sections of the broadsheet press and on financial television programmes. Your finances are your responsibility but a good financial advisor will help you make the most from your money.
You might also like...