Reallocating Your Assets to Suit Retirement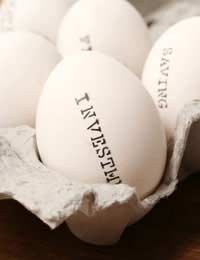 Many financial experts believe that getting your asset allocation right is the most important decision you can make with regards to your investments, even more important than the individual investments you hold.
As you approach retirement asset allocation takes on even greater significance, as you will need to rebalance your portfolio to suit your retirement.
What does Asset Allocation Mean?
Asset allocation is the name given to how you manage the different types of assets within your investment portfolio or pension.
Assets are put into different categories, for example, equities, bonds, cash and property. Within these asset classes you can also get subsets, for example equities can be further divided into categories based on region (such as UK, international or emerging markets) and by sectors, such as government bonds, corporate bonds of high yield bonds.
Asset allocation is all about combining those assets in the most effective combination as possible in order to maximise the earning potential of your investments.
The asset allocation that works best for your portfolio will be based on your investment time horizon (in the case of your pension when you expect to retire) and the level of risk you are prepared to accept.
Time Horizon and Risk Tolerance
When you are starting an investment, you should feel more comfortable about taking on a relatively high level of risk within your pension. The longer the time until your retirement, the better your portfolio will be able to withstand the ups and downs associated with long-term investing. This means that a pension portfolio would have a larger allocation to more high-risk assets, such as equities, when compared against more low-risk investments such as bonds or cash.
What Asset Allocation Should you Have?
As you get closer to retirement you will need to think about changing your attitude to risk and considering your asset allocation and whether it is appropriate for your objectives.
Once you are in retirement the normal rules of asset allocation no longer apply. This is because your investment time horizon will already be here and your objective will be to hold investments that will provide you with a predictable stream of income that will last you throughout your retirement.
For example, anyone who is investing for retirement should start to hold less in equities and more in income-generating asset classes, such as bonds and cash as they get closer to retirement age.
However, you should also consider adjusting your asset allocation if there is a change in your level of risk tolerance, your financial situation or if your retirement goals have changed. Examples of this could be if your salary increases or decreases significantly before retirement, or if you discover that your pension pot may not be enough to fund the retirement you wish to have.
Rebalancing your Portfolio
Rebalancing your portfolio is all about figuring out what assets are better placed to meet your objectives, and making them work harder on your behalf.
Rebalancing is necessary from time to time because investments tend to move in cycles, as does the economic environment. In some periods you will find that some investments will perform better than others. For example during 2008 equities struggled as a result of the global recession, whereas corporate bonds which carry lower risk have performed better.
By rebalancing your portfolio, you make sure that your portfolio is well positioned to take advantage of investment cycles, without over-emphasising one particular asset class at the expense of others.
Changing Asset Allocation
If you feel the time is right to change your asset allocation to better suit your retirement, there are three main ways to realign your investment portfolio
First, you can sell some of your investments in over-weighted categories and use the proceeds to buy investments in other asset classes. Many investors close to retirement look to sell some of their equity holdings in favour of cash or bond investments.
Second, you can use new money to purchase investments in any areas in which you are 'underweight'.
Third, if you are still making payments into a pension you can alter your contributions towards those areas where you feel your money would be more comfortable, to give your portfolio a bit more balance.
Before you decide to adjust your asset allocation you should talk to your pension adviser or Independent Financial Adviser. They will be able to recommend to you the most cost-effective way of rebalancing your portfolio, without incurring too many transaction costs or tax implications.
You might also like...