Calculating Retirement Income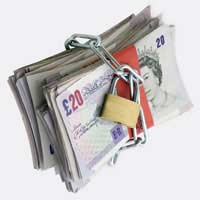 Making the transition from work to retirement requires a certain amount of financial planning. Without a monthly salary to rely to rely on you will need to work out your expected retirement outgoings and ensure that your income exceeds it.
Pension projections
As your retirement date approaches, every pension scheme that you have paid into throughout your working life will be sending you their forecast of your projected future pension benefits, based on the pension lump sum that has been built up over the years.
These pension estimates are designed to provide you with a good indication of how much monthly or annual income your pensions will provide. If you haven't received any forecasts from your pension providers, you can request them directly. Even the State pension will be able to provide you with its own forecast.
It is worth remembering, however, that these pension forecasts will be calculated in today's money.
This means that an estimated monthly benefit of £100 in today's money (the current buying power of money) might eventually mean receiving £150 each month, which could have the equivalent purchasing power of £100 today. This enables you to work out how much your future pension benefits will actually buy you when you receive your pension.
Some pension providers send their clients 'combined forecasts'. These already include the benefits you stand to receive as part of your State pension.
Make sure therefore that you read the small print and do not end up including State benefits in your forecasts in more than one instance, otherwise you will be significantly overestimating your actual retirement income.
Other Income
Once you have a clear indication of the income you can expect to receive from your pensions, the next step in calculating your retirement income is to pool together all of your long-term savings, shares, investments and details of any other assets you own, such as property.
These assets could be vital in boosting your retirement income, both in terms of regular sums of interest or if they could be sold for a profit. For example, when it comes to property, consider getting your home valued. You could be able to use the value of your home at a later date if you choose to participate in an equity release scheme.
State Benefits
It is well worth finding out if you are entitled to any extra state benefits, including means-tested benefits if you have a low income. You could find yourself entitled to benefits that would make a contribution towards housing or council tax, as well as disability or carer benefits depending on your circumstances.
Pension Credit is another means-tested benefit that many people approaching retirement are unaware of. Divided into two parts (guarantee and savings credit) these enable people on low incomes with smaller pension pots to top up their pension income in line with the government's 'minimum pension guarantee'. You could also be entitled to an additional savings credit, which rewards your savings by paying you extra for each pound saved.
Retirement Income for Couples
If you are married, take time to discuss your estimated retirement income together and make sure that your partner knows where all your documents are kept.
It is also worth reading through the fine print to find out what happens to income in the event of death. Some pension schemes pay out a percentage of the standard income to the surviving partner, but some policies do not continue after the death of the policy-holder.
Paying Tax
Remember that most people in retirement still have to pay tax on their retirement income. This includes private pensions, interest on savings and even the State Pension. However if your total retirement income falls below the government threshold you will not have to pay tax.
There are some tax-free savings vehicles that you can use to avoid paying tax, including Individual Savings Accounts and National Savings Certificates.
If you find that your retirement income does not match up to your expected outgoings, you will have to give some serious thought to how you will make up the difference.
You might also like...