Why BP's Oil Spill is a Disaster for UK Pensions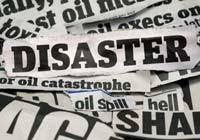 The BP oil leak off the Gulf of Mexico has had a significant impact on the environment, and has also dramatically depleted oil reserves. There is, however, another impact being felt by British pensions, many of which have suffered by the dramatic fall in the company's share price.
Most people are unsure how their company or personal pension is invested, but if they did know the chances are they would be in for a surprise. Because of BP's relative size compared to other UK companies, it features heavily in UK-based pension funds. As a result, almost anyone with a pension has a stake in the success of failure of BP.
BP is one of the largest companies in the UK stockmarket, at the end of last year it had a market capitalisation of almost $200 billion. BP also has a reputation for being one of the biggest payers of dividends on their shares, another reason why pension funds have always traditionally held large numbers of BP shares. BPs dividends account for £1 out of every £7 in dividends paid out by the FTSE 100 index of the UK's leading companies.
As a result of the oil leak however, BP's rock solid status has changed dramatically. The company has seen its share price fall from around £6 per share to less than £3 per share.
BP also recently announced it would be suspending its dividend payments until the oil leak is fixed and negotiations with the US for compensation for coastline damage have been resolved.
Final Salary Schemes
If you have a final salary scheme, you should consider yourself fortunate. Your pension benefits are guaranteed and it is the responsibility of your pension provider to ensue that they have the funding in place to pay your pension. Your pension amount will depend on your salary level and the number of years you have worked at your company.
Money Purchase Pension Schemes
Those of us who do not have a final salary scheme will have instead a money purchase or defined contribution scheme. In such a scheme the employee and employer pay contributions into the pension pot, with the aim of investing them wisely enough to build up a large pension fund. Personal pension plans are also Money Purchase schemes.
As a result, these types of pension are very dependent on the performance of their investments. Most pension funds have a large holding in BP, with some holding up to as much as 8% of the total fund invested in just BP shares alone. That's because BP used to represent 8% of the total size of the FTSE 100 index.
So what has happened to your pension since BP's demise? Well the chances are that your pension fund will have fallen in value over the last few months, as a result of BP's problems, although stockmarkets across the world have also fallen heavily this year, so BP should not be considered in total isolation.
Even if your pension fund has 8% invested in BP, it is worth remembering that 92% will be invested in other companies. That's because all investment funds, including pensions, rely on diversification: spreading their money across a number of companies to make sure that returns will not be too heavily affected by the fall of a single stock.
Pension funds usually diversify into other types of investment as well, including bonds, property and cash, so one single investment will ever have too great an influence on the performance of the portfolio as a whole.
Ironically, if you are an employee of BP, you shouldn't worry about your pension on top of all your other concerns. BP's pension fund is one of the few pensions to not hold any BP shares.
You might also like...