The Excessive Retirement Charges Affecting Pensioners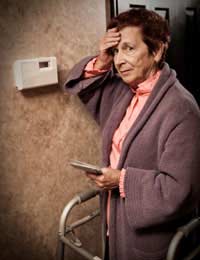 Disturbing reports have emerged of financial hardship among thousands of pensioners living in private retirement developments. These pensioners are falling victim to unscrupulous management agents who are charging exorbitant service charges and excessive fees when they look to sell or rent their property.
In a study conducted by the British charity Age UK, more than 200,000 pensioners are finding themselves facing financial difficulties and expensive legal battles as a result of opting to live in private retirement developments.
Service Charges: A Licence to Print Money
The charity has called the service charges made by some of these developments 'escalating and excessive'. It claims that instead of finding a home that makes them less of a burden to their families, in reality many pensioners are living in fear of increasing service charges and bills.
At present these management companies are legally entitled to increase the service charges on their residential properties without notifying residents in advance. Age UK wants the Government to clamp down on these unscrupulous practices as soon as possible with tighter regulation.
Pensioners Up In Arms
Age UK claims they have received more than 400 separate complaints in the past three years, either from residents of private housing or from their relatives. Most of the complaints related to steep or increasing service charges which they claimed were far higher than they were originally led to expect to pay.
Furthermore, when some pensioners were looking to sell their retirement property, they were informed that they would be required to pay 'unfair' transfer fees to the management company, some totaling up to 8% of the total property value.
Whilst Age UK pointed out that not all retirement properties were managed by unscrupulous management companies, they also noted that managing agents often failed to take into account the lack of income of their residents.
Unfair Tendering Practices
As a result, they often failed to put services or insurance schemes out to competitive tendering, which resulted in unnecessarily high charges being passed on to residents. Some management companies were believed to have been caught awarding contracts to subsidiaries of the same company.
In its report, titled 'Putting Retirement Housing in Order', Age UK recommended the Government start regulating this fast-growing sector. Despite there being a code of practice already in place for retirement home managers, the code is not being properly enforced and as a result some companies have felt able to raise charges with impunity.
The charity also argued that the legal system was proving too costly and time consuming for pensioners who grievances to take their cases to the courts.
They are also calling for the management agents of residential properties to be obliged to show that service contracts have been put out to competitive tender, and also for limits placed on the rents and service charges for flats, pegged to current market levels.
The full details of the report have now been placed in the hands of the Office of Fair Trading for review. Pensioners will be hoping that the OFT will make recommendations that put an end to corrupt practices charging them excessively for services they have worked hard all their lives to be able to afford.
You might also like...