Types of Annuity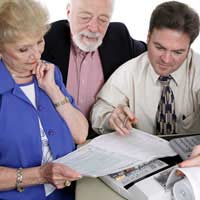 When you buy an annuity you are basically exchanging a lump sum of money for a guaranteed regular income. People who buy annuities will usually use the money in their pension fund, a fund that they have been paying into for years, to purchase this guaranteed income. The amount of income you receive from an annuity will depend on certain factors and the type of annuity that you purchase.
Pension Funds and Annuities
If you buy an annuity using your pension fund then you are usually buying a regular income. The lump sum that you use to buy the annuity will be invested in order to give you a higher return on your money than you would have received if you had simply invested your money in a savings account. When you retire you can take the option of receiving a percentage of your pension fund as a lump sum, usually 25%, and the rest will be used to buy an annuity.
Annuity Rates
The money that you use to buy your annuity will be invested, usually in government stocks, which are considered a very safe investment. However, the returns on the annuity income are based on The Bank of England's base interest rate, and compared to 10 years ago this is not providing a very good return. In fact, annuity rates are now almost 50% lower than they were 10 years ago.
Annuity Options
Due to this low rate of return many people are revising their pension options to find more beneficial ways to make a return on their money. Using the 'open market' option, investors no longer need take the annuity offered by their pension provider. When retirement comes the pension provider will write to the pension holder outlining their annuity types and rates, but the pension holder no longer has to accept this option.
Shopping around to find the best types of annuity with the best returns is the sensible thing to do. Also taking the 25% tax free lump sum is advisable. Compared to an annuity income this is tax free money that you can invest elsewhere. There is also the option of using 'drawdown' where you can draw an income straight from your pension fund and leave the rest of the money invested and bypass buying an annuity altogether.
Types of Annuity
The rates of return on annuities are also based on circumstances relating directly to the buyer. Factors such as age, sex, how much has been paid into the pension fund and even the health of the customer will be taken into account. With the health factor it may be that circumstances have come about that mean you are not likely to live long after retirement. If this is the case then the option of enhanced income payments is one of the types of annuity that can be considered.
Annuity Options
There are many different types of annuity available and each should be considered carefully before investing. Popular types of annuity include:
Level Annuities - will pay the same rate for life.
Guaranteed Period - income will be paid for a set number of years even if you die during this period.
Escalating - income will increase every year, usually starting at a lower rate and then escalating.
With Profits - risk option where income is linked with a profit from investments.
Unit Linked - high risk annuity where income is not guaranteed but if market is healthy it will give better returns than a with profits annuity.
Other Annuity Options
There are many different types of annuity available and an annuity provider will be able to give information and assess which annuity is best suited to you. If ill health is a factor then the option of an impaired annuity should be discussed. This option usually pays around 15% more than a regular annuity, and if the annuity holder is seriously ill that percentage can increase to 80%.
Spouse's Annuity
If you are worried about your spouse's financial situation should you die then you should consider a spouse's annuity pension. This will guarantee that your spouse will receive an income, usually around 50%, should you die before them. You may have to start off with a lower rate of annuity income due to the fact that your provider will calculate that they are going to be paying out for a longer period.
Annuities are a good way of receiving a guaranteed income during retirement. Depending on the type of annuity you buy there should be absolutely no risk to the income you receive. Always shop around to get the best annuities rates, and always take the best financial advice you can before buying any annuity.
You might also like...