Pensions from Your Employer-What You Need to Know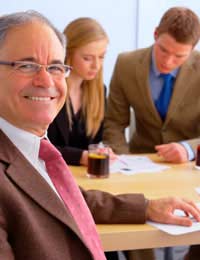 For the majority of people in the UK pension plans will be set up through their employer. An occupational pension is a pension plan that is usually offered as a job benefit and companies with as little as five employees are usually required to offer employees a pension scheme. Pensions from your employer may consist of the employer paying a contribution towards your pension.
Types of Employer Pensions
A stakeholder pension must meet requirements that are set out by the government. These requirements include that you can pay into the pension when you want, that there will be a £20 minimum payment and there will be set minimum annual management fees.
With stakeholder pensions through your employer you must be allowed to pay your contributions from your wages using the employer's payroll system. The downside of stakeholder pension is that your employer is not required to pay any contributions towards your pension.
Group Personal Pension Plan
A pension provider may be used by your employer to set up a pension scheme for employees; the employer will make the decision on the pension provider to be used. The benefits of a GPPP are that if it has been set up as an alternative to a stakeholder pension then your employer must pay a contribution that is the equivalent of at least three percent of your salary.
If you leave your employment then your employee must forward your pension contributions deducted from your salary to your pension provider; this way you will be able to take your pension to your next place of employment. There may be some downsides regarding your pension if you change employment such as paying higher administration costs to your pension provider; your previous employer may have received an administration discount from their pension provider.
Receiving your Occupational Pension
You will not be able to access your pension until you retire; at present the earliest you can retire is 50 although this is set to change in 2010 to 55. You are able to work past retirement age and draw your pension if you wish.
How are Pensions Paid?
Occupational pensions are paid directly into bank accounts and tax will have been deducted before you receive it. Tax deductions will be based on all of your incomes including your state pension.
Amount of Pension
How much you receive will depend on how long and how much you have been paying into your pension plan. Your payment will be based on a formula based on either your average pay throughout the scheme or on your pay near retirement; this is known as defined benefit. Alternatively your pay may be based on the pension that accumulated until retirement and the amount of pension that can be purchased with the funds; known as a defined contribution. Your pension may be based on a hybrid scheme, which works between both benefits and pays the highest amount.
Taking a Lump Sum
You can take a lump sum of tax free cash from your pension, usually 25% of the fund. This will reduce your pension income but it is always a wise move to take the lump sum. The rest of your pension will be taxable so this tax free sum can be invested in other ways and you can make this money work for you. By taking the lump sum you are effectively swapping taxable income for tax free cash.
For most working people occupational pensions will be the main source of income during retirement. It is a wise move to invest in pensions from your employer as early as possible. The longer you pay in and the more money you pay in the bigger the pension fund will be when your retire.
You might also like...
Pension Release is a flexible alternative to purchasing an annuity. If you are 55 years of age or over and have a suitable amount in your pension fund then you can release a tax free cash lump sum of up to 25% of that pension without having to retire or take an income.
income pension
- 20-Apr-11 @ 1:54 PM