Public Sector Workers to Pay More Into Their Pensions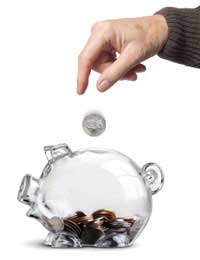 Recent austerity measures announced by the coalition Government could mean millions of public sector workers being asked to pay more into their pensions, or being forced into retiring later, as the Government looks to drastically reduce the costs associated with maintaining public sector pension schemes.
It is believed that in some cases, workers will be expected to double the monthly contributions they pay into their pensions, a move that is expected to cause widespread anger amongst public sector workers and could also see them unable to pay or refusing to participate in pension schemes.
The proposals will also see the retirement age at which people qualify for their public sector pension increase to 65.
The proposals were announced by Lord Hutton, who was commissioned by Chancellor George Osborne and tasked with finding a solution to what was called an 'unsustainable' rise in the annual bill for public sector pension schemes.
There is currently a significant gap between the amount of money being paid into these schemes, and the amount of money required for pension payouts. This gap is expected to double to £9 billion before 2015, according to research from the Office for Budget Responsibility.
In his review, Lord Hutton pointed out that the Government was committed to making short-term savings to help reduce the massive budget deficit. It is believed that if the Government can shave just 1% from the pension payments of public sector workers then they will be able to save £1bn.
Hutton believes that the most effective way to make these savings will be to ask public sector workers to increase their existing levels of contribution, rather than lowering the level of public sector pensions paid out.
What is the Public Sector?
The public sector is the name given to the broad variety of good or different services that are provided by the state, for example the police, education, healthcare, the military and other public services. In these roles, the government is the employer and they are responsible for paying salaries and, of course, pensions.
It is believed that the number of former public sector workers who are now drawing their pensions has increased dramatically over the years, with a rise from 2.5 million pensioners to 3.3 million in the last decade alone.
Longevity is another important factor when it comes to funding pensions. People are living longer, and whereas retirement used to be considered the 'twilight years' many of us can expect to live two fifths of our adult lives in retirement.
Because of these factors, Lord Hutton also announced that his public sector pension reforms will look to ensure that the ages at which public sector workers are able to retire will be "in line with latest developments in longevity".
So Who Will Be Affected Most?
Most public sector employers currently pay an average of 18 percent of their salary into their public sector pension schemes. This is almost twice as much as the typical amount paid into final salary schemes within the private sector.
Lord Hutton's report suggests that the Government will look to means test their reform proposals. This should mean that higher paid workers, for example NHS executives and managers will be expected to pay the highest proportion of additional contributions towards their pensions.
Good news for the armed forces, however: the report suggests that there are no plans to introduce pension contributions into armed forces pension schemes. Currently members are not expected to pay contributions.
You might also like...