Can You Close Your Pension Shortfall?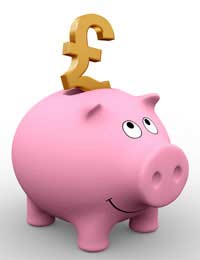 If your retirement income works out at less than your retirement outgoings, then you have a pension shortfall. A pension shortfall indicates that when you retire you will not have enough money to enjoy the lifestyle you would like to.
If you are close to retirement a pension shortfall takes on even greater significance, because the options available to you to help you bridge the pension gap are more drastically reduced. There are, however, things you can do to help reduce your pension shortfall, as this article explains.
How Can You Reduce Your Shortfall?
If you have a pension shortfall there are two main routes that you can take to make up some of the deficit. First, you can save more now for the future or you can retire later and save more over a longer time period. Choosing the right route for you will depend largely on how much of a shortfall you are trying to make up.
For example, if you calculate that your pension falls short of your desired income by a relatively small amount (say a thousand pounds a year), then there could possibly be some short-term adjustments that you could start making now. Alternatively, if you are wide of the mark by a few thousand pounds, you will have to think about more long-term ways to help you recover some of the lost ground.
Getting the Full State Pension
Before you think about finding ways to supplement your pension, make sure that you are on target to receive the full State Pension. Provided you have made all the necessary National Insurance contributions, you should stand to receive a weekly pension of around £87.
However, not everyone will receive the full State Pension, perhaps because National Insurance contributions were not paid when they were studying, travelling or raising a family. If you have been forecast not to receive the full State Pension, find out why and then try to make additional payments to make up the deficit. If you can do this before you reach retirement age, the better off you will be during retirement.
Private Pension Schemes
Next you should ask yourself if there are any occupational or private pension schemes that you have not yet joined, but still could.
Pension schemes have gained a poor press in recent years for providing less than satisfactory returns. Nonetheless, they offer considerable advantages for those close to retirement, and can be used as another tax free savings account. For example, many pension schemes offer tax relief on contributions and even allow you to take a tax free lump sum when you start withdrawing the pension. You will also be able to increase contributions as and when you need to.
Additional Savings
If you are already paying into a pension scheme and have your national insurance contributions up to date, then you should consider investing whatever spare cash you have available at the end of each month.
The government is keen for more people to save for their own retirement and have made Individual Savings Accounts (ISAs) tax free to encourage people to pay into them regularly. With an ISA you can save up to £7,200 a year tax free, either in cash, stock market investments or a combination of the two.
Other Ways to Save Money
If you do not have enough spare cash to pay into pension schemes or other investments, the other way to close your pension shortfall is to try and reduce your current spending. You might be surprised how much you could save if you make small changes to your current lifestyle. Here are some examples:
Quitting smoking can save you a considerable amount of money over the course of a year, as well as adding years onto your life. Giving up a two packet a week habit can save you roughly £520 a year, or £5,200 over ten years.
If you cut down on regular Indian and Chinese takeaways (say, £15 a week) you can save £780 a year or £7,800 over ten years.
If you cancel your £40 a month satellite television subscription and switch to Freeview you can save £480 a year, or £4,800 over ten years.
If you switch from a £30 a month mobile phone contract to pay as go (around £15 a month) you can save £180 a year or £1,800 over ten years.
Small changes like these can quickly add up, especially if you use the money you save to invest wisely.
Start Planning Now
It is worth bearing in mind that those lucky pensioners who do not have a pension shortfall do not rely on the State Pension alone, but are able to supplement that basic income with private pensions, earnings from their savings and investments and also from part-time work.
The best way to minimize a pension shortfall is to make sure that you are saving as much as you can for your retirement, as soon as you can. Don't leave it too late to save for your future.
You might also like...