Getting a Better Pension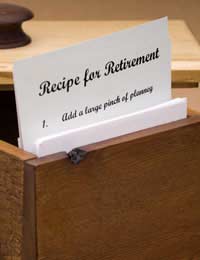 It is a well known fact that as the recession bites harder, older workers close to retirement are facing two major concerns. First, there's the fear that they could lose their job, and more worryingly is the concern that the pension they can expect to receive when they retire will have shrunk considerably following the fall in pension fund values over the last few years.
However close you are to retirement age, it makes sense to consider your financial situation and think about whether there are steps you can take to improve your pension when you retire.
To get you started, here are some basic pre-retirement steps to help you make an informed decision about your pension plans.
Start by Reviewing Your Expenditure
Make a start by thinking about all your current outgoings, which means any bills and regular payments that you make each month. Think about how this will change after you retire. For example, will you still be paying off your mortgage? Will you have to replace your company car with a new one?
Calculate how much you spend each month, and what you will expect to be spending after you have retired. You might be surprised by both amounts.
List Your Income
Now that you have a better idea how much you will have to spend each month, you need to think about how much money will be coming in.
Make a comprehensive list of all your financial assets, not just your State and company pension, but any savings or other income that you can expect to receive on a regular basis.
By finding out how much of an income you can get, you will be able to decide whether your investments are working hard enough on your behalf, or if they could provide a greater income if they were used in a more profitable way.
Think About Inflation
Once you have worked out your incomings and outgoings you need to think about the biggest threat to your future pension – inflation.
Inflation has remained fairly low over the past decade or so, but the recent financial crisis and recession means that the government has been forced to spend more money to fight the problem. This could lead to higher inflation in years to come.
Inflation weakens the value of the money in your pocket – you might be able to buy something for a pound today, but in two years' time the exact same item might cost £1.50.
No-one can know for certain how inflation will affect our investments in the future, but it makes good sense to plan ahead, by focusing on the difference between the rate of return your investments achieve and the rate of inflation.
For example, if you have cash in the bank which is earning a rate of interest of 2 percent, and inflation is at 3 percent, then you are effectively losing money (1 percent) by keeping it in the bank.
Rethink Your Approach to Risk
If your investments are not providing a high enough rate of interest, you might want to think about changing your attitude towards risk.
Most people approaching retirement aim to put their savings in less risky assets, but if you are worried that you might not have enough to meet your retirement needs, you might think about investing equities and bond investments rather than keeping your money tied up in the bank.
Can You Postpone Your Retirement?
If you are worried about retirement fast approaching, you might decide it would be beneficial to try to postpone retirement and keep earning. While most people effectively retire at 65, there are still some jobs with the flexibility for workers to continue beyond that date.
Should You Buy an Annuity Now?
As if the news wasn't already poor for those approaching retirement, annuity rates (the level at which you can set your future pension payments) are falling. This means that if you purchase your annuity now you will have a reduced pension amount to live on each month.
If you are able to wait for rates to improve, it would be wise to do so. Bear in mind though that by holding off you run the risk of annuity rates falling even further.
Prepare Yourself for a More Frugal Retirement
In the current environment, it makes sense to think carefully about scaling back some of your retirement plans, for example postponing those holidays or new purchases that you were planning on making. It is also worth considering that pensioners are living longer, so therefore need a larger pot over a longer period.
The outlook for people approaching retirement may look particularly bleak at present, but it is worth remembering that the current recession will not last forever. The good times will return, but if you plan for the worst now, you stand a better chance of enjoying a more prosperous retirement when the time comes.
You might also like...