Stocks and Shares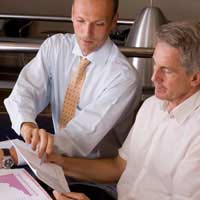 Getting the most from your money may mean taking a few risks, and that may mean making some investments in stocks and shares. Statistics have shown that over time, investments in stocks and shares have always given a better return than savings accounts. But stocks and shares can go down as well as up so careful consideration will be needed before investing any money that is intended for your retirement years.
Investment Goals
The whole point of investing in stocks and shares is to make your money work for you, and stock investments can achieve this. The higher the risk element the higher your return can be, and if you are willing to bet your retirement fund on some high risk investments the responsibility will be all yours. You can employ a financial advisor and the services of a stock broker but this is your money, and it is your money that will be lost if the stock plummets.
The Low Risk Strategy
Many people will simply not consider risky investments with their retirement money as most people naturally do not want to gamble with their future finances. If, however, you have some form of personal or occupational pension already in place and still have some disposable cash then low risk investments can be a wise option.
If you are intending to place some of your salary in a low risk investment then make sure to shop around. Interest rates will fluctuate over time but not all of the financial providers will give the same rates. If you are researching providers then check out providers who are just starting out and giving very favourable rates. Internet businesses that sell investments are seen as the best option when it comes to interest rates, so start your search there.
Low Risk Investment Options
Low risk investment options can include high interest savings accounts, ISAs, Nationals Savings Investments, SIPPS; there are many different types and the returns will depend on how long and how much you invest. A good financial advisor will be able to guide you through all of the different low risk investments, with prices tailored to your budget.
High Risk Strategy
With high risk investing you are of course taking more of a gamble but the profits can be greater. You will be investing more of your money over a greater period of time. If you have relatively little experience in the stock market then employing a stock broker or taking advice from a financial advisor is vital. Of course you can do your own research and choose your own stocks and shares but this may add further to your risk.
Attitude to Risk
Your attitude to risk will go some way deciding on whether to take the low or high risk option. If you are not against taking a gamble, have enough disposable income to invest for a long period of time, and have some good financial advice then you may be inclined to make some high risk investments.
High risk investments will include any investment that takes a lot of your capital over a long period of time and is determined by variable interest rates. With high risk investments you need to be able to brave the highs as well as the lows and not lose your nerve.
Investing in stock and shares is a good way to make your money work for you. But remember, if you want a bigger dividend then you will need to take a bigger gamble. If you do not want to risk money that is intended to finance your retirement years then you should stick to safe investments that provide a low risk return.
You might also like...