The Pensioners Forced to Retire on Just £2,000 a Year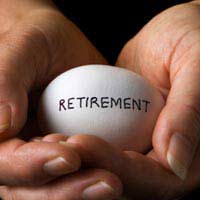 The problem of pensioners finding themselves with a pension shortfall is getting worse, according to research published recently.
Annuity specialist firm Partnership published data claiming that seven out of every ten pensioners who have retired in the years between 2004 and 2009 have done so with a pension savings pot of no more than £30,000.
Based on today's annuity rates, this works out at a desperately low annual pension income of just £2,000 a year.
Of course this amount doesn't take into account the Basic State Pension, but even if you include that amount it works out at an average of around £7,000 a year for a single person, while the average retired couple can expect an annual pension of just over £10,000.
To put those figures into perspective, it works out at less than £140 per week for a single pension and less than £200 a week for a couple.
When you consider that the average annual salary in the UK is £26,000 a year, then clearly most pensioner are finding themselves having to adjust to a far lower income and a marked deterioration in their living standards.
According to Partnership, one in four pensioners are living in poverty, and this situation is only going to worsen if people approaching pension age do not make better provisions for their retirement.
Open Market Annuities
Partnership also revealed that only two in five pensioners found a better annuity rate for their pension by taking what is known as the 'open market' option.
The open market option can be vital in helping pensioners boost their annuity rate a little further. Instead of simply accepting the annuity offered by the pension provider, the open market allows other pension companies to quote their own annuity rates. If you find a better annuity rate with an alternative provider, you are legally entitled to move your pension pot to make use of the better rate.
By not at least considering the open market option, pensioners are failing to make the most of their pension pot and could find themselves living on a smaller annual amount than they need to.
State Pension is Not Enough
Some people, when asked why they do not contribute to their own personal pension reply that the State Pension means that it is the Government's responsibility to fund their retirement.
Sadly the state is struggling to afford the funding of those in retirement, The UK population of over 65 is increasing, whereas in 2005 the percentage of the population at pension age was 16%, this is expected to rise to 25% by the year 2050.
Already the Government has taken steps towards increasing the retirement age, hoping to get people to work for longer and make them less of a burden on the state.
So what should future retirees do to ensure that they have a large enough pension pot with which to retire? Well obviously the more you can save in the years before retirement, then better off you will be during retirement.
It is never too early to start putting aside some money in a pension, and the Government offers tax incentives that are designed to increase the pension amount you save to help kick-start your pension pot.
You might also like...