Eating Well for Less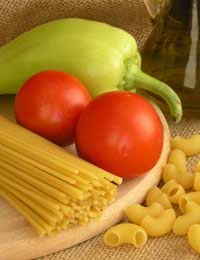 No matter what age you are the need to eat nutritious food is vital in order to maintain a healthy body and mind. Senior citizens need much the same intake of nutrients and vitamins as younger people but with financial constraints it may not be as simple as filling up the shopping trolley and paying with plastic. Eating well for less money may take some careful planning but it is a necessity for some senior citizens.
Brand Names
There is no need to skimp on the essential food types if you plan carefully and avoid the big brand names. Buying brand names may have been something you took for granted when you were earning a wage, but these brands can cost double than a store's own brand. In a lot of cases you are actually paying for the packaging and the name, and the difference between the taste of the name brands and store brands is negligible.
If you really want to buy the name brands then look out for the reduced items shelves. At certain times during the day supermarkets will reduce a lot of their stock as it may be coming up to its sell by date. The price on the reduced stock is usually around 75% less than the normal price and you can pick up some great bargains, especially in the large supermarkets.
Special Offers
Supermarkets are increasingly undercutting each other on price and their advertisements show that they will go as low as possible in order to attract customers. Many of the big name supermarkets have two for one offers on a variety of food and drink, and these offers will usually change every week. You may think that using the money off coupons will be a cheaper option but the two for one offers are really the best bet.
Make One Trip
If you can, try and make only one trip a week to your local supermarket to buy your food. This will not only save time but also money on bus fares or petrol. Making a list of the food and drink you need each week will also stop impulse buying that may occur if you shop for food on a regular basis.
Discount Food Stores
Discount food stores have become commonplace on the British high street. From the giant freezer stores to the shops that sell all items for a pound. The quality of the goods sold in these shops is comparable to the supermarkets but there are huge decreases in price to be found in shopping at these stores. You can shop between the discount stores and the supermarkets to achieve the best possible prices, and it will make a difference to your weekly food bill.
The Essentials
Essential foods include fruit and vegetables and these can usually be bought quite cheaply when they are in season. Once they near the end of the season the price will begin to increase but you can always buy extra and freeze the food and then unfreeze when needed.
Calcium is essential for healthy bones in older people and dairy products such as milk, cheese and yoghurts are excellent and inexpensive ways of obtaining calcium.
Fibre is another essential for older people as it prevents constipation and gastrointestinal diseases. You can obtain fibre from a regular intake of bran cereals, pasta, whole wheat bread, apples and potatoes. All of these food types can be bought very cheaply in supermarkets and are a great way to eat well for less money.
Sugary Foods
Whenever possible try and avoid foods that contain an abundance of sugar. Too much sugar can cause problems with the immune system, especially in the elderly. It can also cause eyesight problems and constipation, and contribute to problems such as diabetes. Look out for low or sugar free foods and soft drinks.
Don't Skimp on Water
Water is essential in maintaining a healthy body and mind. Even a slight case of dehydration can cause a loss of concentration and will be detrimental to the overall condition of the body. In an ideal world we would all drink eight glasses of water per day but if you cannot manage this then try swapping regular soft drinks for water, or using diluting juice to make the taste nicer.
Eating well for less does not mean skimping on the essentials or forbidding yourself some luxury items such as the essential chocolate bar. But by planning your budget and cutting out the more expensive brands you should find that you can stick to a healthy diet and save a lot of money.
You might also like...