Avoiding the Common Scams in Retirement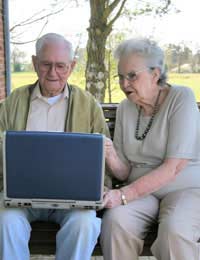 No matter what age you are you can always be susceptible to the conman or woman looking to part you from your money. Scams are any scheme or fraudulent practice aimed at getting you to part with your hard earned cash in return for shoddy goods bogus contracts or absolutely nothing at all. The perpetrators of these scams are extremely good at what they do; they can appear likeable, trustworthy and professional, and they know exactly what to say to get you to sign over your money to them.
Scams and Senior Citizens
Police reports have shown that around a third of all fraud victims are senior citizens, so why are the elderly such an attractive proposition to the conman? It could be that senior citizens are more trusting or it could be that many live alone and are more susceptible to a smooth talking salesperson. Many seniors also have ready cash available and are no different to anyone else when it comes to a bargain offer.
Seniors may also have mental problems such as memory loss and confusion, which makes them an easy target for the conman. Politeness is a virtue that many conmen will prey on when using their high pressure sales techniques, it is sometimes hard for seniors to say no when faced with a charming, friendly, salesperson who seems to have their best interests at heart.
The Scams
Successfully avoiding the scams means recognising them when they happen. Unfortunately the list of scams perpetrated on the public is seemingly endless, and new con tricks appear all the time. There are a few key factors to look out for, and one saying to bear in mind when approached by anyone who is offering a bargain for very little money is – if it looks too good to be true it probably is. Key factors that will help you to avoid losing your money:-
high pressure sales techniques
Always ask to think about the offer for a few days
If they say the offer is a once only, sign now deal, avoid it
If you can, never pay with cash
Never fall for get rich quick schemes
Get a second opinion from a friend or family member
Never, ever, give credit details over the phone; you have no proof who is on the other end of the line
Avoid letters or calls that claim you have won a prize, these are rarely if ever legitimate
The New Age of Scamming
Scamming has reached a new peak in terms of technology via the internet. Phishing is the term used for fraudulent emails designed to obtain either details of bank account numbers, credit cards or email passwords. These emails can look legitimate but by the time you realise your bank account has been cleared out the conman will be long gone.
A reputable bank or credit card company will never contact you by email asking for account details. Similarly avoid all emails claiming that you have won an international lottery or that you have won some form of cash prize; these are scams designed yet again to obtain your bank details. Also avoid emails from countries such as South Africa asking for help to deposit funds in your bank account for a percentage. Replying to these emails can lead you into very serious trouble, not just financially but also legally.
Telemarketing Scams
At most they will simply be a nuisance that will interrupt your evening by trying to sell you double-glazing or upgrading your phone company. At worst they can be high pressure sales people who will continually phone with news that you have won prizes such as holidays and timeshare apartments. There is no such thing as a free holiday and businesses do not make money by giving away holidays and timeshare apartments.
As with all scams the conmen are preying on your eye for a good deal. They will offer tempting incentives and rock bottom prices; in the end they will be long gone once they have obtained your cash. Avoiding the scams means staying proactive, if you are being plagued by nuisance telemarketers ask to have your name removed from their list or ask your telephone operator to change your calls to prohibit any callers that do not provide a number.
Other Common Scams
It is impossible to list all of the scams that are perpetrated on a daily basis but common scams include shoddy contracting work, cheap loans and credit cards deals, equity loan fraud, pensions investments fraud and ID theft. Always make sure to obtain the proper credentials and licences from anyone you are dealing with, and never, ever, hand over cash for any services such as building work.
Successfully avoiding the scams means that you take responsibility for your money and your own investments. If you feel you have been treated unfairly or scammed in any way then contact the Trading Standards Authority and the police who will do their best to help you, and put the scammers out of business.
You might also like...