Financial Impact of Living in a Caravan or Motorhome When Retired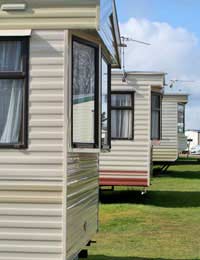 Many people think that living in a caravan or motorhome will provide an added lease of freedom when retired, but there will be a financial impact to consider. Caravans and motorhomes are not cheap to either buy or maintain, but there are options that can be used to reverse the overall financial impact.
Caravans and Motorhomes for the Retired
If you are thinking of buying a caravan or motorhome when retired then you will probably be aware that they can be quite expensive. A good, used caravan or motorhome can cost quite a few thousand pounds to buy, while a top of the range brand new motorhome can set you back well over one hundred thousand pounds. Remember, just as with other vehicles, caravans and motorhomes do depreciate in value the older they get and the more mileage they use.
Financing for Caravans and Motorhomes
Of course for most caravans and motorhomes there will be financing available if required. However, financing for retired people is not as simple as financing for people in full time employment, although there are options available depending on the level of income that is coming into the home. Equity loans may also be available but these should be carefully considered as the home will be used as security.
Maintenance and Repairs
One of the major financial impacts to consider with caravans and motorhomes is wear and tear. These vehicles are out in all weather conditions for much of the year and can be prone to rusting. Motorhomes will need MOTs conducted on a yearly basis and this, along with road tax, will be another financial consideration. Insurance will also be needed on these vehicles and security measures such as wheel clamps and alarms will be needed before insurers will provide policies.
Renting out Caravans
Another major financial impact to consider when living in a caravan is the decision on touring or having a static pitch. There are many residential holiday caravan parks around Britain where caravans can be kept. These are not supposed to be used for permanent residence by one person due to council tax law. However by using a residential holiday park you do have the option of renting out your caravan for holiday makers.
Income from Holiday Caravans
Renting out a caravan or a motorhome when retired can bring in a large income, especially if the holiday area is popular. By doing this you can actually offset a large number of the other costs of owning these vehicles. Bear in mind there will be extra insurance and maintenance costs when renting out to holiday makers but it can be an excellent form of regular income. Remember you will also have to pay land rental from the holiday park, and you may also have to pay annual maintenance fees.
Other Considerations
Of course living in a caravan or motorhome for part of the year when retired can take its toll financially in other ways. Fuel to both run the motorhome and fuel to heat the caravan will rack up the costs. However, if you are renting out your caravan or motorhome for part of the year you should be able to offset these costs.
The financial impact of living in a caravan or motorhome when retired can be offset if you rent out wisely during part of the year. It can also be a wise investment bringing in a regular income during retirement. But anyone who is considering this idea as an investment opportunity should weigh up all the pros and cons before proceeding to part with any money.
You might also like...
I thought of continual travel in a motor home without having a permanent address but didn't follow up on the legal implications and rights.I suppose it would be harder for the DWP to keep security of identification with a non residential. They could alwaysallow some kind of check in the country of origin by reporting with identification at a DWP near a town on travel every allocated time interval. Just a suggestion. But this may cause arise in motor homes on the road and other minor or major problems.
None
- 29-Jan-20 @ 11:12 PM
@Rabbit - if you can receive your UK state pension when you are living overseas, surely you can also if you are travelling. Lots of retirees travel. I'd call DWP and ask what the process is. You've earned it, you should be paid it.
BBI
- 22-Jun-18 @ 3:17 PM
I will shortly transfer to living in a Motor Home. At the moment I am in a serious crisis of a debt situation. I do not receive Housing Benefits or single persons allowance. The state Pension that I receive is only £90.00 per week. I am informed that without a permanent address that I will be unable to receive the State Pension? Very Concerned Mr Rabbit
Rabbit
- 22-Jun-18 @ 12:22 PM