Ten Questions for Senior Jobseekers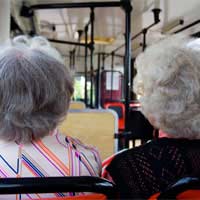 Ever increasing numbers of retirees are choosing to continue to work, either full-time or part-time. For many of these retirees, the decision to continue working has been made more out of financial necessity than for the pleasure of continuing to work.
For others, however, the prospect of maintaining a regular job and fulfilling a useful role in society can be immensely rewarding, not just financially, but also giving them meaning and keeping them stimulated and active both mentally and physically.
If you are planning to rejoin the working world, but you are not sure about the work you may be suitable for, or the right work for you, then the following ten questions specifically aimed at senior job seekers will be a good place to start.
Question 1: What Type of Work Are You Looking For?
It may sound rather an obvious place to start, but you'd be surprised the number of people who begin their search for work without any real idea of the work they are really looking for and end up doing work that's simply not a good fit for them
Think about the sort of work that you think you would enjoy, but also be realistic about what work you may no longer be physically suitable for.
For example, taking a job as a gardener may seem a great way to get out of the house and into the fresh air, but if you suffer from arthritis or a persistent back problem, such a job may not be right for you.
Question 2: Is Your CV Up to Date?
Whatever job you are hoping to apply for, chances are that the employer will ask to see a copy of your curriculum vitae, or CV.
A CV should be a brief but comprehensive run-down of the jobs you have, as well as personal details, qualifications and any other information that may prove useful to your employers.
If you haven't needed a CV for a number of years, putting on together may seem daunting, but it needn't be. The trick with a CV is to make sure that it is clear, consistent and brief (usually no more than two pages in length).
Question 3: Are you Interview-Ready?
Once you have made the decision to be actively looking for work, there's really no excuse to be underprepared for an interview, even if it arrives sooner than expected.
Interview preparation takes two forms. First, make a few notes about yourself, jot done your previous work experiences and some of the roles you undertook. It always pays to have some examples in mind of tasks you accomplished or areas of achievement.
Second, try to find out whatever you can about the job or the potential employer before the interview. If you can't, then don't be afraid to ask lots of questions during the interview itself.
Remember that as a mature jobseeker you have skills and life experience that a younger candidate simply will not be able to match. Don't be afraid to use these skills during the interview.
Question 4: Are Your Potential Employers 'Senior-Friendly'?
Many mature jobseekers have been frustrated by what's known as the 'silver ceiling' whereby companies are unwilling to employ anyone who has retired or is close to retirement.
If you are looking for a specific role within a certain industry, it is worth doing your homework to establish whether the companies you are considering have a good record of employing senior people.
If the companies you research have a poor attitude towards hiring senior people then you may consider either looking for work in an area that is more tolerant of the needs of elder staff, or even taking them to an employment tribunal to highlight their discrimination.
Question 5: Are you Looking to Combine Work with Personal Interests?
For many people, retirement from their permanent employment gives them the ideal opportunity to turn their hobbies or personal interests into a way to earn a living.
Think about what gives you pleasure, and whether there are people who will pay to allow you to do that. It could be as the groundskeeper of your local cricket club, dress-making, brewing your own beer, even reviews for your local newspaper, the opportunities are limited only by what you are prepared to do!
Question 6: How Flexible are you Willing to Be?
If you are looking for work, it makes sense to consider beforehand just what sort of a commitment you are willing to make. Having reached retirement, for example, there's little point accepting a role that expects you to work the sort of long hours that you hated before you retired.
Think about how important quality of life is to you, and estimate how many hours you would be prepared to work without feeling that you might as well not have retired.
Question 7: What are the most Positive Aspects of your Previous Roles?
Now more than ever, it is important to find something that you find stimulating in a positive way.
To help you find this, think about the things you enjoyed from your previous working life: was it the camaraderie of your work colleagues, or did you prefer to work alone? Was it a creative role or did it give you the freedom to switch off while you were at work?
You may decide that, regardless of how you used to work, now is the time to try a different approach. After all, you are free to reinvent yourself however you see fit.
Question 8: How Important is Job Security?
Unfortunately, job security becomes increasingly hard to find as workers get older. If job security is an issue for you, for example because you are still paying off a mortgage or have other commitments, make sure that you ask any potential employers what they consider to be your employment life span.
They may not give you the answer you are looking for, but at least you will be prepared.
Question 9: Looking for Seasonal or Temporary Work?
One of the most popular forms of work for senior job hunters is seasonal work, which could include anything from fruit picking, jam making or even a stint as a store Father Christmas!
If you are looking for seasonal or temporary work, the best advice is to start well in advance of the season. As most employers or causal or seasonal workers prefer to fill positions sooner rather than later.
Question 10: What are the Most important Things to You Now?
How you approach working after retirement can often depend on your financial situation. It is important, however, to think of the positive aspects of continuing in work, and what you can get out of your new career.
Consider whether there are roles out there that will be able to provide you with the things that are important to you, such as social interaction, personal fulfilment, and a sense of worth, that go beyond the financial compensation of the job. It is worth trying to find an employer who respects the qualities and skills that maturity brings.
You might also like...