Find a Legitimate Job Working from Home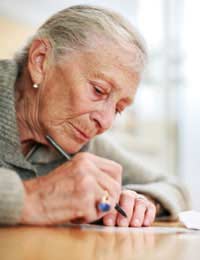 After retirement it is worth considering all forms of employment to help supplement your income. Many people consider working from home, although some work at home opportunities are nothing more than scams offering unrealistic ways to 'get rich quick'. There are some work at home opportunities, however, that can allow people to make a respectable living and help supplement your retirement income.
The Benefits of Working from Home
Working from home gives you great freedom. You can gain a certain level of financial independence while doing work that fits around your own schedule.
At the same time though, you will be subject to the drawbacks associated with working from home. For a start, depending on the work you do your income is unlikely to be fixed or regular. You may have to put up with periods where you do not earn any money at all.
When you do earn, you will have to remember to declare your earnings for tax purposes.
Most people find that, after a difficult period of trying to find home work and then achieve a consistent pattern of working, eventually they are able to make a reasonable income.
How to Find Home Work
The internet is the simplest place to research and find opportunities that allow you to work from home. By conducting research on the web you should be able to find either skilled or unskilled work.
Unskilled Work
Those jobs that are classified as unskilled usually involve performing relatively simple tasks, usually in high numbers and at speed in order to make them worthwhile.
Examples of unskilled home work include:
Mail Order
Completing Online Surveys
Responding to Emails
Price Shopping
Research
Product Assembly
Skilled Work
Skilled work is usually known as freelance or telecommuting work. This usually requires a specialist skill that can be put to good use by a company that doesn't want to pay a salary for the work.
Examples of skilled home work include:
Medical Transcriptions
Language translations
Writing/Editing
Graphic Design
Counselling
Computer Programming
Photography
Crafting
Of course there are plenty of other working from home opportunities, but these are a useful starting point. Obviously skilled home work tends to pay more, although the contracts you undertake may be more infrequent, meaning that it is harder to get a regular income. You might also have to face stiffer competition from fellow skilled workers when trying to secure these contracts.
How to Avoid the Scams
It is important to make sure that you avoid any working from home scams that could either be illegal or leave you seriously out of pocket. If you are unsure as to whether a working from home opportunity is a scam or not, simply apply some common sense. Most employment offers that sound 'too good to be true' usually are.
If the job comes with the promise of an outrageously high level of income (better than you would be able to achieve with a high paying 'normal' job), then it is more than likely to be a scam. Also, if any job opportunity asks you to pay 'up front' for materials or services, then think about whether you are likely to recover these costs from the work expected of you.
Nothing Comes Easy
Working from home can be rewarding, depending on the opportunities you can find. The hard part is finding the sort of work that you are suitable for and will pay a meaningful amount. It is difficult to become wealthy by working from home, but if you work hard and be realistic you should be able to earn a useful level of income to supplement you in retirement.
You might also like...