Planning and Financing Funerals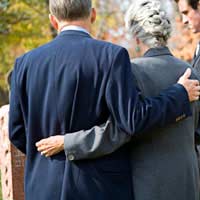 Planning and financing a funeral is unlike any other task. Most people, no matter how hard they try, cannot put aside the emotional implications of organising the final rites for the death of a loved one or, for that matter, their own death. But there's a growing need to plan ahead and be practical. According to a survey published by the National Association of Funeral Directors, some aspects of funerals costs have risen 48% in three years.
Ideally, people should therefore plan for their funerals and arrange appropriate finance. Surviving relatives, of course, can take on these duties once a death occurs. But relatives may have little time to organise matters. Furthermore, they may have to pay 50% of costs when they make the initial arrangements with a funeral director, and the balance shortly afterwards. In other words, money has to be readily available, which is not always the case.
Planning
No matter when or who plans a funeral, certain questions arise. The first is whether to have a burial or cremation. In some areas of the country difficulties occur with burials; major cities may have a shortage of plots and when plots are available, there may be a significant fee to buy or lease the ground. Some plots can take more than one coffin. A family could therefore open up an existing grave, but the local authority will need to see the deeds that prove ownership.
The next issue is the burial service. People who plan their own funerals can leave the details with close relatives. An alternative is to enclose the details with wills. The remaining question to address is whether or not to have a wake. Many people are keen on hiring a venue for the mourners to gather after the service.
Prices
These different aspects of a funeral, and related matters such as headstones, music and flowers, have a cost. Prices vary across the country. The survey conducted by the National Association of Funeral Directors puts the overall cost of an average funeral at several thousand pounds
A grave may cost £650
Cremation charges are usually over £620
The charge for interring someone's ashes can be around £170
Clergy fees are almost £100
A doctor's fee for a cremation is about £145
Flowers may cost £200 or more
The funeral director's fee is on top of these. It covers limousine and hearse hire; staff from the funeral company; the coffin; preparation of the body; and the hire of the chapel of rest
Pre-Paid
Pre-paid funeral plans can take care of most costs. Payment for such a plan is upfront and in full. It's wise, though, to know exactly what a plan covers. Some plans, for example, guarantee full burial and cremation costs; others make a contribution to these.
A company usually offers a series of plans with different levels of cover. This cover follows strict guidelines, although some plans allow people to personalise funeral details if they wish. The best advice is to shop around. By matching quotes to the levels of cover, it's possible to find a plan that takes care of most if not all costs.
The money from a pre-paid funeral plan usually goes direct to the funeral director.
Insurance
Over-50 life insurance plans are now common. People make a regular monthly payment into the plan until death. Some companies stop taking payments at a given age such as 90. On death, the policy pays a lump sum to the family.
Estate
If an estate is likely to have sufficient money to cover a funeral, there may be no need to have a pre-paid funeral plan or life insurance. A bank that's holding the deceased's money releases money for the funeral, the bank needs to see the death certificate and the funeral director's itemised bill.
Social Fund Funeral Payment
Anyone who is responsible for a funeral, but who has a low income, may qualify for a social fund funeral payment. Full details are available at government Jobcentre Plus offices. The payment covers cremation or burial fees. It also provides help for a coffin, flowers and the fee of a funeral director, although the amount of money is relatively low.
Bereavement Payment
The government's Bereavement Payment is separate from the Social Fund Funeral Payment. The Bereavement Payment is worth £2,000, and certain conditions apply. The deceased and any partner must be under state pension age and the deceased must also have paid national insurance. Jobcentre Plus offices have more information.
Reducing Costs
Organisations such as the Natural Death Centre give independent advice about planning and financing funerals. This advice can help reduce costs. For example, the law does not oblige people to use a funeral director, do-it-yourself funerals are possible.
Another potential saving is coffins. Cardboard coffins are far cheaper than wooden equivalents. A basic cardboard coffin can cost less than £100 as opposed to £600 or more for wood.
Finally, solicitors can charge high probate fees for managing a deceased person's estate. It's wise to ask for a number of quotes.
You might also like...