Discount on Local and National Transport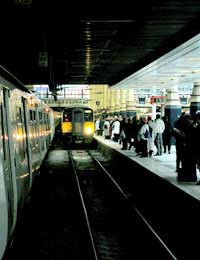 As a senior citizen you will no doubt be aware of the discounts and concessions that can be gained on a wide variety of goods and services. You can also benefit from discount on local and national transport when travelling either around your hometown or around the country. With a greater amount of leisure time at your disposal and with cheaper transport costs there is nothing to stop you getting out and about and visiting friends and relatives, and sightseeing around Britain.
Local Buses
Although the rules may vary between local authorities, people over the age of 60 are entitled to a free bus pass that can be used for travel during off peak times. Many local authorities also offer free travel between neighbouring towns and the outlying areas. In April 2008 new rules will be brought in by the government that allows concessions for older and disabled people to travel without charge to any area of the country by bus.
Railcards
Discounts on rail travel are dependant on the network that is used, and each network will have their own special senior citizen rates. However, anyone over the age of 60 is entitled to a senior citizen railcard for a charge of £20 per year. Senior citizens can benefit from up to a third off rail travel fares throughout the country, and this can also be used on some ferry crossings.
Coaches
Concessions on national coaches will be dependant on the coach operator but there are coach discounts available for the over 60s throughout the UK. In Scotland you can get free coach travel on certain coaches if you are over 60. You may have to pay a 50p booking fee to guarantee a seat on the coach at the time you wish to travel at.
Air Travel
>There may be some concessions available on air travel and each airline will have its own criteria. Age limits may apply depending on the airline being used and you should contact the airline you are intending to use regarding any senior citizen discounts.
Sea Crossings
There are certain ferry and shipping companies that offer discounts on crossings if you show your senior citizen railcard. Many other shipping operators will have their own special discount rates for senior citizens and you should check with the company before travelling.
Mobility Discounts
You will receive discount on local and national transport if you suffer from some form of disability that makes walking a problem. If you are under 65 and have mobility problems you may also receive a disability allowance and can claim for discount on local and national transport. Discounted travel for people with mobility problems will include:-
Buses – local and national
Coaches – local and national
Trains – local and national
Mobility allowance receivers may also be able to receive help towards leasing or buying a used or new car or scooter, be exempt from car tax, and are exempt from certain parking restrictions.
As with all government discounts and concessions, many of these discounts and exemptions are dependant on certain criteria. You should contact your local authority who will be able to give a full list of any discount on local and national transport available and who can apply for these discounts.
You might also like...